Fashion Week tends to bring the most creative looks to the streets as everyone is bustling about in between shows, or simply just walking around trying to get a piece of the action. Of course we're all super stoked for the highly anticipated collections that are about to hit the runway, but there is one thing that many of us tend to be a little bit more excited for--the street style.
Photographers swarm outside the show locations, capturing a wide array of outfits from the most minimalist to the most eccentric. No sooner does that flash go off, those street style shots are streaming online throughout various fashion publications, categorized by different trends and reports.
Thanks to my internship, I was invited to some shows this season for the first time ever. Being that I knew I was going to be out and about (and you never know who's watching), I had to make sure that I had at least one really strong look. The outfit I crafted was inspired by sophisticated adrogyny--mixing menswear and womenswear components for a powerful look. To my surprise, I actually was photographed and featured by a few publications! This is something I've always wanted; I was so thrilled to see my style showcased on sites like Fashionista.com, WhoWhatWear, Essence, Impressions, and the official NYFW Instagram page!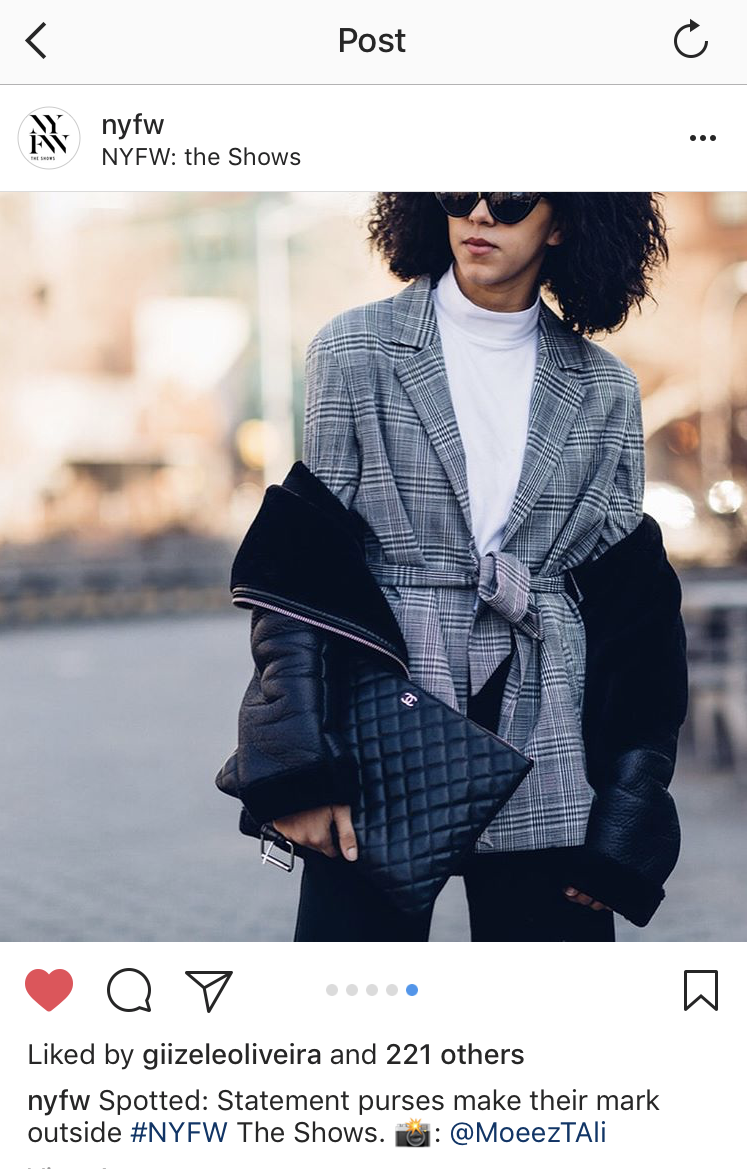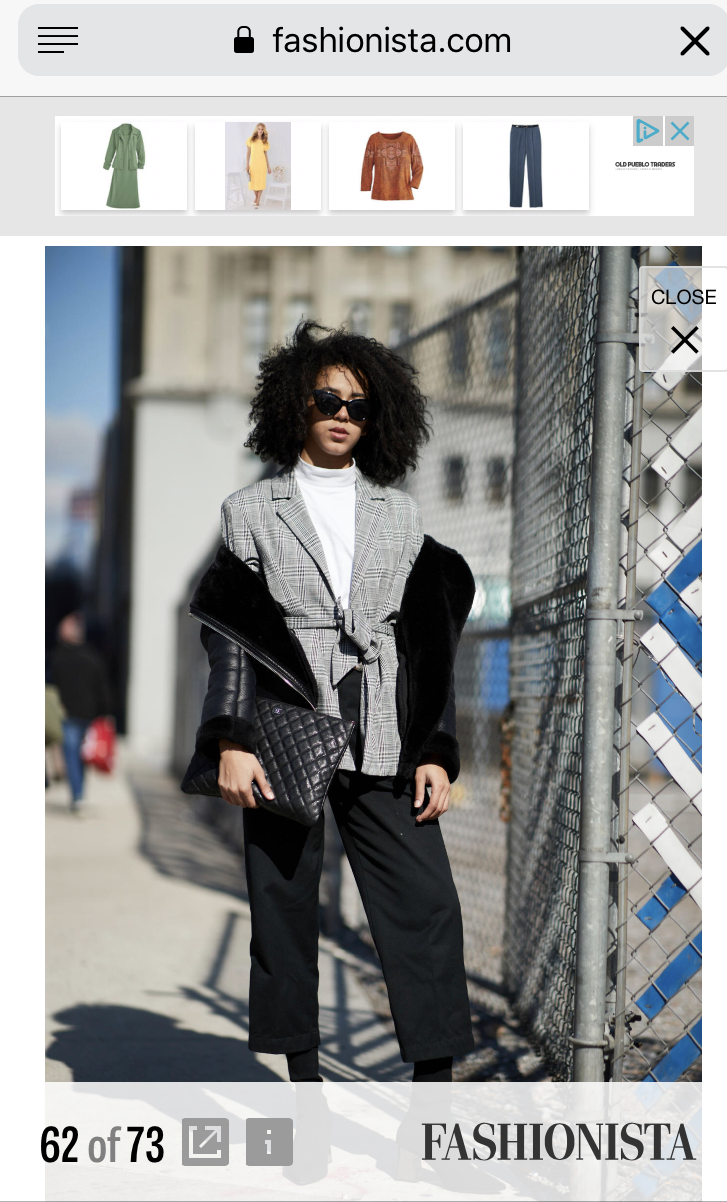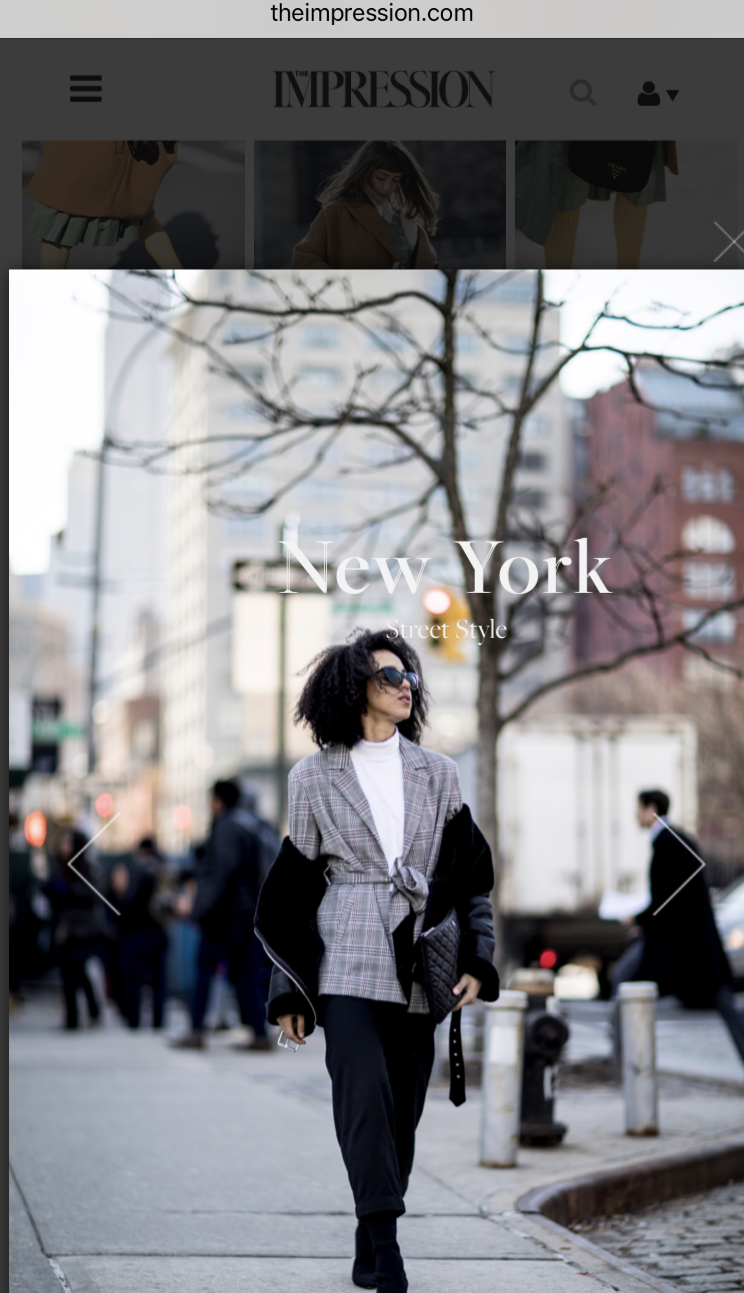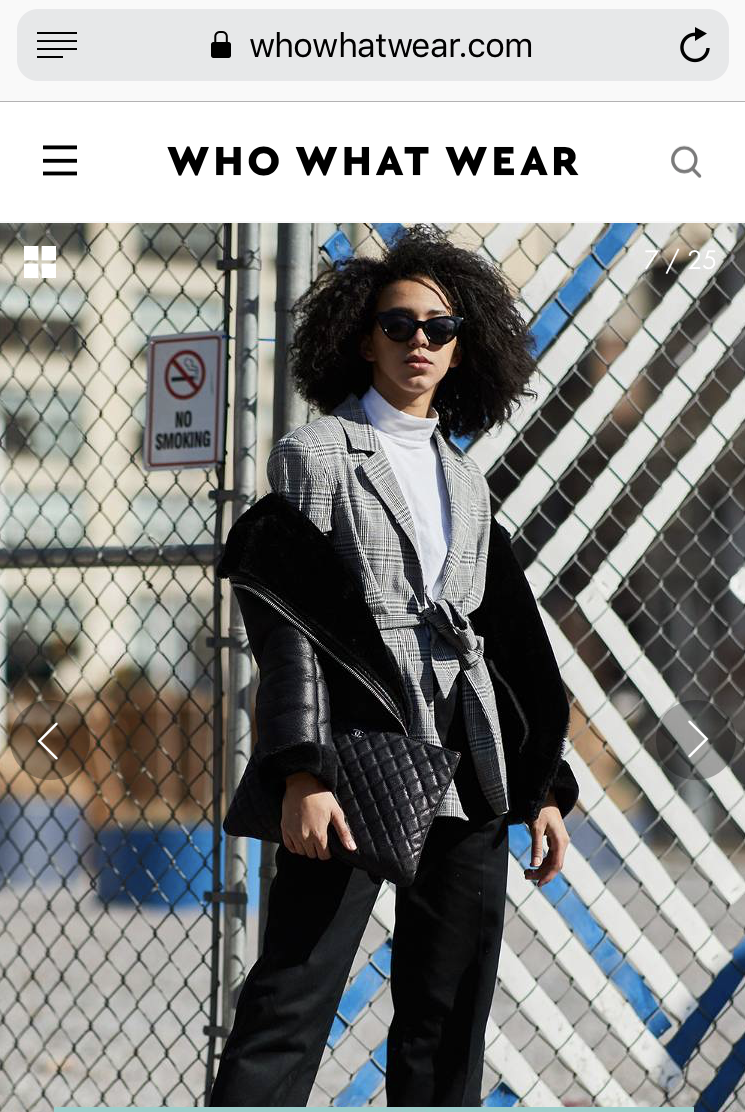 There's a common misconception that the only way to get photographed is by attending shows--not the case! Here are a few tips for getting your looks photographed and featured across the web--no invite necessary.
1. STALK THE SHOWS
Yes, you can get your photos taken without a personal invite to shows. All you really need to do is be on a show's location (Pier 59, Skylight Modern, Spring Studios) in one of your best looks, and let the photos fly. It's super important to be on the scene to gain the most exposure, because the photographers all huddle outside the entrances waiting for their next best shot.
2. PLAY WITH PATTERNS
Houndstooth and checker are among some of the patterns that are trending this season. Catch a photographer's eye by incorporating a patterned piece or a co-ord set into your look. I wore this checked blazer from Zara for a striking, eye-catching touch.
3. ACCESSORIZE
Whether its a powerful bag or bold shoe, accessorizing is very important and can easily grab the attention of photographers and showgoers. I incorporated one standout accessory in my look- my Chanel O Clutch, which landed me in a feature for statement purses that were spotted during NYFW!
4. STAY TRUE TO YOUR PERSONAL STYLE
Sure, it's cool to rock something thats trending to catch a photographer's eye. But something that's even more important is staying true to your style and being yourself. Self-expression is one of the most important factors in fashion because it is portrayed in what you wear and how you style yourself. It sets you apart from the rest, which is really one of the key components to having your style showcased. Wear what you want and wear it proud and confidently!
This Fashion Week season was incredibly special for me, especially being that I was able to accomplish some major goals that I've worked so hard for. If one of your dreams is to be part of Fashion Week, in any way, don't give up because it's not impossible. I went from watching shows on my laptop at home to assisting backstage at shows to now being invited to watch and cover them. Keep grinding and working toward it!
WHAT I WORE
Blazer: Zara, shop here.
Turtleneck: Vintage
Pants: Carhartt WIP
Shoes: Zara, shop here
Coat: Vintage
Bag: Chanel O Clutch